emailTo info@atl.biella.it
PREVOSTURA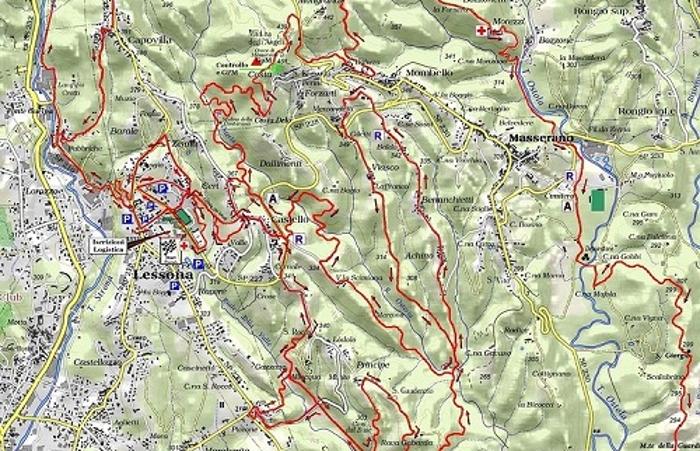 Route subject to enhancement with the funds of the PSR 2007-2013, Misura 313, Azione1
The hill between Lessona and Masserano offers a pleasant landscape surrounded by vines and crossed by dirt roads, where in the past centuries farm wagons traveled, suitable for mountain bike excursions. The proposed itinerary, whose name derives from an ancient farmhouse surrounded by vineyards, of which today only a few ruins remain, winds through woods, vineyards, pastures and ancient villages.
The Granfondo La Prevostura, www.laprevosturamtb.it included in the Coppa Piemonte MTBike circuit, thanks to the charm of the route and its efficient organization, has become over time one of the most important competitions of MTB calendar both in Piedmont and at the national level. This end of season classic takes place every year in October on a track of about 45 km in continuous ups and downs, without great climbs.
It starts from the sports facilities of Lessona and goes through the hills and vineyards, up to Prevostura, the farmhouse that gives the circuit its name. It continues towards the Croce di Masserano and the Piane dam, which offers panoramic views of great beauty and then returns to Lessona, Castello, and finally reaches the finish line.
Download the GPS track of Granfondo 2017
The race is always accompanied by a non-competitive bicycle tour, on a shorter distance (about 20 km), always set in a fantastic landscape. From the center of Lessona, head towards the vineyards and woods along the Rio della Valle, then go up to the Prevostura, reach the Osterla stream and continue towards Masserano and its villages; hence return to Lessona. The total height difference is 450 meters, the longest climb 600 meters and the maximum gradient slope of 18%.